2019 marks the 89th Geneva International Motor Show and it marks a significant shift in the motor industry. You would have been hard pressed to find a manufacturers stand at the 2019 Geneva International Motor Show that didn't have some form of electrified products on their stand. Some manufacturers had whole sections taken up by electric vehicles (EVs), such as Volkswagen and Mercedes, who made their electric intentions very clear.
Geneva itself is a very EV friendly city, with it being almost impossible to walk down the street without seeing an EV. The airport, most notably, had a fleet of Renault Zoe's and Volkswagen e-Up! Running around on the tarmac.
It didn't take long after walking through the front doors of the show to find the first electric offerings. Fiat was first up, they used the Geneva Motor Show to debut their new Fiat Centoventi concept electric car. Centoventi – translating to one hundred twenty – marks Fiat's 120th birthday. The Centoventi has been designed to appeal to younger buyers, with it seeming infinitely customisable, with buyers able to choose from four colours for the bumpers, wheels and roof, amongst other elements of the car. Quick maths suggests that there are up to 256 colour combinations for the Centoventi concept. The Centoventi is also just as customisable when it comes to the powertrain, with battery sizes available to deliver a range of 62 miles, up to 310. Fiat hasn't said when this car will reach the market, but it is expected to replace the current Fiat Panda, which is nearing the end of its current life cycle.
We then swiftly moved on to a newcomer to the EV market, Polestar. Polestar are essentially Volvo's Tesla. A ground up, electric vehicle brand. The Polestar stand was a futuristic grey box that housed two of the brand's new EV, the aptly named Polestar 2 which is the second vehicle from the forward-thinking manufacturer. Polestar are taking a direct aim at Tesla and their yet-to-reach-the-UK Model 3. The show car had a 78kWh battery, with Polestar aiming to achieve a WLTP certified 310 miles. These figures stand for the £51,500 launch edition, with a more affordable, £35,000 2 set to steal sales from the Tesla Model 3 Standard Range, coming later. Polestar are also the first vehicle manufacturer to include an Android operating system in their vehicles, aiming to pioneer in car connectivity.
Visible from the Polestar stand were our project partners, Honda. Standing proud in the middle of the stand was their new Honda e-Prototype. The near production ready e-Prototype relies heavily on the extremely well received Honda Urban City Concept, and features many of the design cues that the public fell in love with. The e-Prototype features a battery with capacity to deliver a 124-mile range, and a neatly placed charging port, hiding a CCS socket. On the inside, there are three screens that span the length of the dashboard, where most of the car's functionality can be controlled. There are also two smaller screens on the left and right of the car, which are used for the wing mirrors, which are actually cameras, instead of conventional mirrors. Adjacent to the e-Prototype was the Honda Power Manager Bi-Directional charger, a sleek CCS charging unit capable of V2G. These two new products fit nicely in to Honda's commitment to total electrification by 2025.
Kia were also present at Geneva and were another manufacturer to have a whole section of their stand dedicated to their electrified vehicles. The Kia e-Soul made its European debut at the show. The Kia e-Soul shares most of its powertrain with the Hyundai Kona and Kia e-Niro, meaning the e-Soul benefits from the same 64kWh battery and a certified 281-mile range. Alongside the e-Soul was the aforementioned e-Niro. Specs are almost identical to the e-Soul, with the e-Niro boasting a 64kWh battery, and a 279-mile WLTP range. Both of the Kia EV debuts feature up to 80kW rapid charging, which is enough to achieve an 80% charge in 30 minutes.
It was then impossible to miss the duo of Daimler Group stand's next door. Smart's stand was exclusively EV, which is the direction the brand has chosen to take in Europe, with their ICE powered derivatives being discontinued gradually over the last year. Smart falls under Mercedes' EQ electric sub brand, and benefits from Mercedes developed technology. Both the ForTwo and ForFour models have 16kWh batteries. Both models are capable of 99 miles which make them perfect city cars.
Mercedes made their electrification efforts very apparent. Sitting pride of place on their stand was their new EQC SUV. The EQC is a ground-up EV, with a WLTP certified 280-mile range, 80kWh battery and an estimated £60,000 starting price. Sitting next to one of two EQC's on the stand, was the EQV debut concept. The EQV concept take their popular V-Class MPV and turns it electric, apart from some cool aerodynamic wheels, and new grille and lights to align it with the EQC, the EQV is mostly production ready. Although pricing is unconfirmed, a 100kWh battery and an estimated 250-mile range will be offered.
There was also an IONITY high powered charger on the stand, capable of delivering up to 350kW of recharging power, when there are vehicles on the market that can accept such high rates of recharging. The presence of the IONITY charger signified Mercedes' approach and commitment to electrification, as IONITY is funded partly by a consortium of BMW, Daimler, Ford, Volkswagen, Audi and Porsche. The aim is to build a European fast charging network, much like Tesla, to enable long distance EV driving.
Peugeot emerged at Geneva with a whole host of electrified offerings. The next generation 208 made its first appearance at the motor show, with a new electric-powered e-208 being added to the range. A 50kWh battery and an estimated 211-mile WLTP range place it right in the sight of the Renault Zoe and adds a new smaller hatchback to the EV roster. Peugeot are also engaged in a V2G project with Nuvve in Paris with their older iOn EV, suggesting there might be scope for the new e-208 to be V2G capable.
One of the standouts was the Mitsubishi stand. They had a V2G charger connected to an Outlander PHEV that was actually discharging electricity in front of us. The energy was then powering various elements of their 'Dendo Drive House'. You could charge your phone on USB sockets powered directly from the Outlander PHEV!
The final EV highlight from Geneva was the Volkswagen stand. Long gone are the days of diesels, electrification was rife on the Volkswagen stand. There was lots of advertising and marketing of their I.D. sub brand, which is set to officially launch with the production model I.D. Neo in September this year. Volkswagen also pulled the covers off the I.D. Buggy concept, which is a funky dune buggy style EV. Volkswagen said the I.D. Buggy concept will have a 62kWh battery and a range of 155 miles. Hardware and infrastructure was also a key element of the stand. Volkswagen had a large, modular charger-cum-battery on their stand. This was a 360kWh battery, with the ability to charge up to 15 EVs at once. It is able to do both DC fast and AC slow charging. Volkswagen aims to use this type of charger in a 'charger-on-demand' service where VW will bring one of these chargers to your location to enable drivers to have an EV without the provision for off street charging.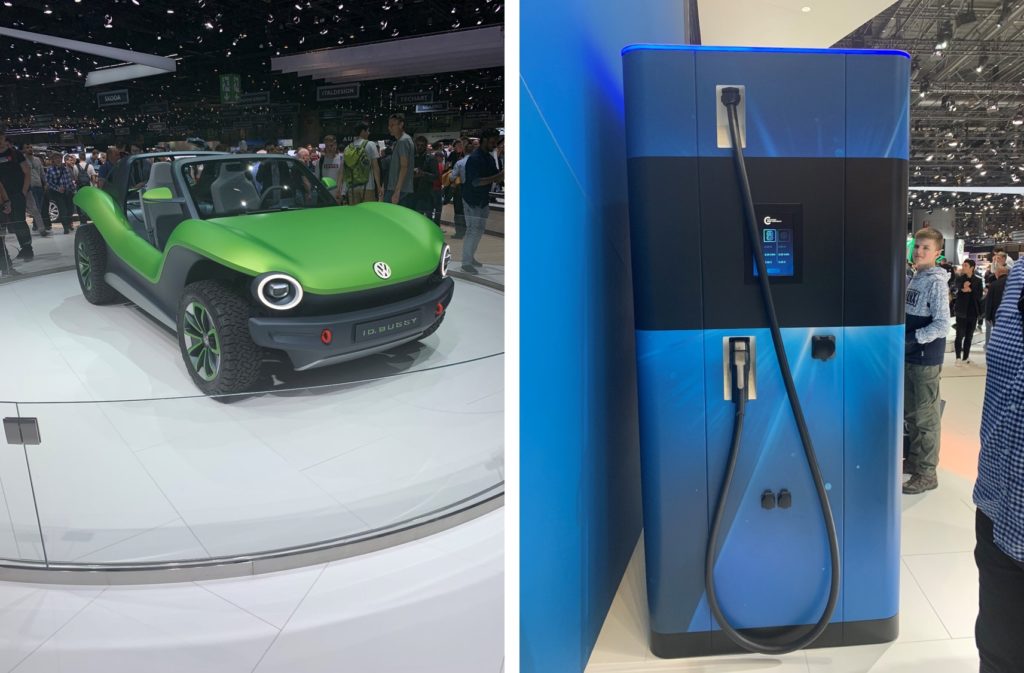 #V2G #ElectricVehicles #SmartCharging #GenevaMotorShow2019 #CleanTransport #EnergyStorage
Blog by Joe Grant, Solutions Analyst for EV8 Technologies, with a keen interest in Electric Vehicles and Low Carbon Transport.